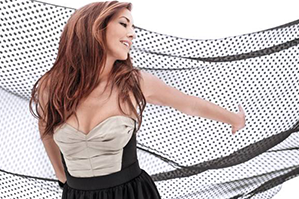 LAS VEGAS WEEKLY: Nightlife producer Genevieve Cleary brings Broadway instincts to Vegas' hottest clubs
Wednesday, March 27 , 2013
You may not have heard of producer-choreographer Geneviève Cleary, but it's almost impossible to ignore the mark she's left on the Las Vegas club scene.
"I feel like I'm a secret weapon of the industry," the Montreal-born nightlife maven jokes of her behind-the-scenes status.
That's not too far from the truth. As CEO and creator of Belluscious, a live entertainment production company, Cleary has become the industry's go-to girl for spectacular shows that blur the line between party and performance. In 2009, she helped launch Paul Oakenfold's Perfecto residency at the Palms and has continued to transform traditional DJ sets into all-out entertainment experiences with a blend of vignettes, choreography and over-the-top costumes.
Cleary has given Marquee its signature coyness and sass as the club's artistic and performance director, and she will hold the same position at Hakkasan when it opens this spring. This month, Cleary has her hands full with two new residencies launching at XS: Redfoo's Le Freak and Dirty South's City of Dreams, which debuts March 29.
What is your creative process for coming up with each show's concept?
There's always different ways. Sometimes DJs do have ideas they present to us, whether it's a theme or branding. In those cases I'll put the concepts on storyboards and try to research as much as possible about how we can present them, respect their vibe and their music and create something that's unique to their style. Meanwhile, some have zero ideas, so that's really about researching and seeing what's out there and figuring out how to help them be original by exploring performance and costumes. It's a lot of time behind the computer drafting.
In the case of Dirty South, did he have a show concept or was it all up to you?
Dirty South brought us on board in New York City for his tour for his album City of Dreams, and he wanted the tour to reflect that concept. So basically the whole theme of Native American meets dream catchers … I adored that theme because it was the first time I've worked on something like that. There are so many DJs that go to the idea of being futuristic or robots and outer space, because that's so attached to the EDM world. The music of the future was supposed to be electro music. I love when DJs break that down and bring it somewhere else.
What's the biggest challenge of building these shows?
Fitting into a budget, and then meeting a deadline. That's probably the problem that most creators have. You have an idea and you're in love with it and you want to see your idea brought on stage, but the reality is that there's still a time frame to create those costumes and those vignettes, which is often really, really short. So we have to restrict to make sure we deliver. I always wish I had a solid year of preparation with 10 times the budget I'm allowed. It's a hard compromise to bring shows that could basically be produced in a theater inside nightclubs.
As the industry's sort of go-to innovator, how do you manage to stay one step ahead of the trends?
The truth is, it's almost ironic, but I'm from a theatrical background. I'm a Broadway girl, so I'm really not deep into that whole EDM culture when it isn't about creating for it, so I stay very objective. I think that's perhaps where my style is different. I embrace and adore the EDM industry, but I love it just as much as I love pure jazz music. I don't go out to those kind of nightclubs either, so perhaps my brain doesn't get into that vibe. Instead, I go see musicals. … I adore when shows are funny and ironic, when there's a kind of winking and interaction with the crowd, and costumes help with that a lot.
Is there a trend in nightclub entertainment that you're sick of?
I'm personally not a fan of going to a nightclub and feeling that nothing is in sync, that there's just strobe everywhere and it's overwhelming and there's smoke and this and that. I'm a big fan of when things are organic, and I think sometimes people try to push it too much. Like if you have a very small club, it's not necessary to bring LED screens in there, because it might not belong there. You might want to play with a different element that brings your venue up a level, like lighting. I do feel like there's a lot of cut-and-paste elements sometimes. I'm excited to see more nightclubs develop unified concepts, instead of overlapping one over the other.
Follow Andrea Domanick on Twitter at @AndreaDomanick and fan her on Facebook at Facebook.com/AndreaDomanick.
GO BACK TO NEWS & PRESS